Company History: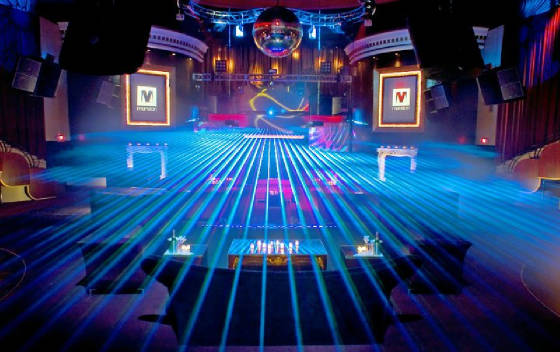 The wonderful world of the Visual Arts and electro-optics sciences.
UNITED LASER was founded by electro-optics specialist Eduardo Capriles who first fell in love with the beauty and intensity of the futuristic look of laser technology at the age of 14 after attending a LASERIUM show in 1977 performed at the Humbolt Planetarium in the City of Caracas, Venezuela. Originally he was selected to show a Super 8 short film that he directed and produced using macro lenses and still pictures from the Apollo space program. The short film was called "Mundos Infinitos" or "Infinite Worlds" in English and was shown to other young students inside the dome of the Humbolt Planetarium during the afternoons for a week as part of an art exposition for science students. In the evenings, after his presentation, the American company Laser Images from LA was performing laser shows to sold out crowds. It was destiny that Eduardo became very curious about the live performance and after the exposition was over he stayed to watch the Laser Shows over and over for several days. Ever since, he was determined that he was going to build his own projection system but with the idea of using lasers to dance venues, theater and live pop-rock concerts instead of Planetariums. So he started to read optical sciences books from his father who was an ofthalmologist and developed a strong understanding about the physics of Lasers and other electro-optical systems. So by the time of his high school graduation in 1981 he already had the motivation to study electronics and artistic applications of lasers and intelligent lighting.
Originally performed laser show demonstrations for private audiences in a laser repair lab were he learned to repair laser systems used inside Xerox fotocopy machines, he then met Barry Ward at a CLEOS Optical Society Conference in Baltimore who developed a DOS based product called LASERMAX a vector based program. And he started to use the program to program aerial beam shows and multiple mirror bouncing effects that will follow the music to the beat as if you were playing a musical instrument. He then aquired LITEPUTER touch panel controllers to be used to steer the laser beams into fixed precition settings with minimal electronic drift using open loop position feedback actuators and closed loop galvanometers for laser scanning.
At the turn of the Millennium, the Company acquired certification from the Center for Devices and Radiological Health CDRH and the Food and Drug Administration FDA variance as a manufacturer and user of electronic devices incorporating laser light components. The Company started performing shows in South Beach and we have grown to incorporate larger and larger audiences all over the world that include Corporate theater, special events, trade shows, arenas and cruise ships. In the 90s, the company was commissioned to design a powerful Laser Show for Paisley Park Records, a Production Company owned by the famous recording Artist "Prince".
We love transforming commercial buildings architecture using electro-optical sciences. Our multimedia presentations have dazzle thousands of spectators taking them through a magical and exiting ride!. Over the years, we have transformed old buildings into new and trendy palaces of entertainment.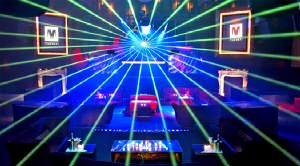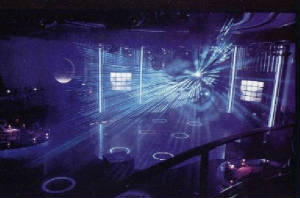 The Company's presentations are often the product of collaboration and well executed planning, working closely with diverse and talented professionals in the production of sophisticated multimedia productions,
and all in perfect synchronization to music. Nowadays we use the latest State of Art Award winning software technology to communicate and create a unique visual experience.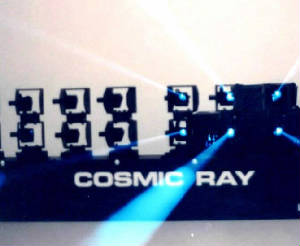 First COSMIC RAY VII Prototype 1995 COSMIC RAY XII Production Line 1997
In 1997 the Company introduced into commerce a Certified, FDA approved Laser Projection system: "The Cosmic Ray" a practical design that became the ideal solution for high precision, multiple mirror bouncing laser architecture designs with minimal electronic drift.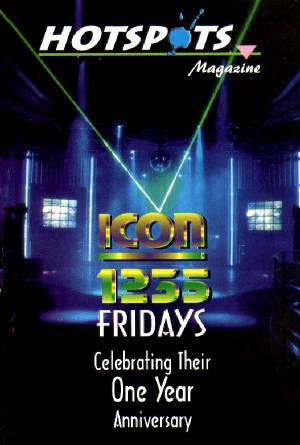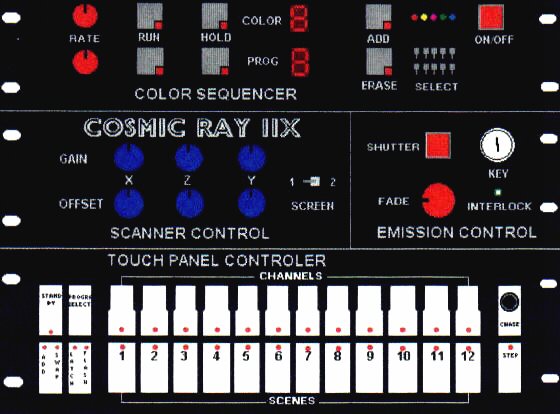 The Company is currently marketing advanced diode pumped solid state laser technology products and most recently, High Definition Theatrical quality video productions. In addition, we offer in Digital Film, and Cinematic HD Video productions. Nowadays, the Technology available is incredibly powerful largely due to its optical efficiency, compact size and adaptability, thus reducing considerably the amount of time required to produced an spectacular show . We thrive in artistic creativity and we offer great customer support to all our customers specially in matters of artistic creativity and U.S. regulatory compliance and safety issues.

.
COMPANY MISSION
:
Our mission has always been to promote and embrace the Visual Arts with a dynamic combination of science, technology and artistic creativity. We are always looking for new challenges towards the implementation of cutting edge technology to express the vision of our clients.
Our approach to business is simple, we love what we do with passion, and that passion is reflected in the dedication and attention to all details of the production process. In a fast paced world, the attention span of an audience can be very short, so it is important to capture and engage the audience with mysterious and spectacular forms of visual arts capable of evoking a roller coaster of emotions. Our team has a unique ability to use artistic creativity pioneering trend setting forms of visual communication and entertainment.
Philosophy:
"Through our eyes, The Universe perceives itself, and through our ears, The Universe is listening to its Cosmic harmonies, and we are the witnesses through whom The Universe becomes conscientious of its Glory and its Magnificence"
Alan Wilson Watts